Wuthering Nights
- I.J. Miller
I was privileged to have read the script that was not the actual published version, so it won't be fair comment in detail on the inconsistencies I found in the draft. What I will say is that I enjoyed the rich language the author brought to life. Reading the manuscript transported me between social propriety of old and the freedom and sexual liberation of our time. I enjoyed the two worlds colliding in poetic English. The flourish and romance of language is thick on every page.
My favourite line from the excerpt I read was this:
" – because you would not allow two people to love in the pure righteous way that lay buried in their hearts."
Isn't that a peach? I do love the language used in this story. You can feel the anguish in that passionate line; while not erotic it still has the power to move with the emotion behind it.
The erotic injections - well, some of them fit the rest of the language while the binary, biological descriptions washed over me without having any erotic effect. For me, I think the worst line from the book would have to be: (because of the coma splicing – but we won't go there because it's irrelevant)
"She held him still with her quim, their eyes never wavering, their kisses never stopping, and let herself get used to the immense size of him, the idea of Heathcliff entering her so extremely that it was as if his tip touched her womb."
I found the scenes highly descriptive and loved the visual image they planted in your mind. I have not read Wuthering Heights, nor seen the movie. I have gathered it is a love story of sorts between classes.
That alone warms my bones to make me want to pick the book up and read it!
If you're a lover of erotica, or a lover of Wuthering Heights, and you were carried away with the romance of the original love story, then I suspect you will also enjoy reading the spicier version of Wuthering Nights.
Rating 4, which is a solid OK in my books. This book is an 'each to their own' type of a read. Some of you will love it and some of you might not. The sex scenes are pretty full on and at times. If you like that sort of thing, you'll enjoy the read. I adore the cover art and hope you enjoy reading, Wuthering Nights!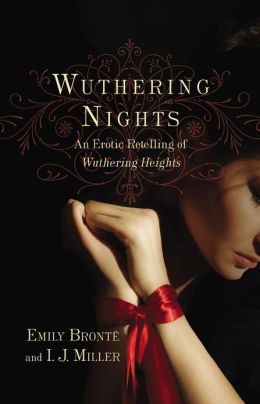 And don't forget to show your appreciation to the author.
Reviewed by Phoebe Miller for Twilight Fantasies & CGB Press