Title:

Love out of Lust - Part One
ISBN:

9781301161423
Author:

Ray Sostre
Publisher:

Smashwords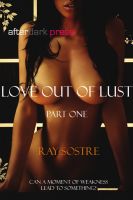 This story was basically a sex story straight up. A quick read (17-18 pages).
Both characters admitted lusting after each other after hearing the other masturbating on previous occasions. During the course of their conversation, things heat up and the line between friend and lover are crossed.
The scene comes together with a bit of background story. The characters have little depth, but are believable. This fast paced story quickly moves along to a detailed sex scene that was mildly arousing. I felt the word 'pussy' was slightly overused, but at least it was in context. I found I needed to weed out the head hopping between characters and what they were feeling at a given moment – that was a tad confusing and frustrating, but the story is mainly written from the male perspective. I only came across two or three occasions where the female perspective came through.
The first part of the story ends on a bit of a cliff-hanger to get you to read the next. It raises an effective question that sparks your curiosity to read the next part. An excellent ending!
I'd rate part one three and a half stars.
Title:

Love out of Lust - Part Two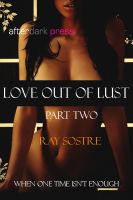 I preferred reading part two because I felt the story had a little more depth as a stand-alone story than part one. To be fair, you need to look at the individual parts of this story and put them together as a whole. Part two is also only 17-18 pages in length, so another quickie read, but it digs a little deeper into the character's background and gives them both a little more depth while still engaging the reader's senses.
Still the occasional head hop, but it's a definite improvement on part one.
The way the author engages the reader and unwraps the story is excellent. He uses interesting adjectives that perfectly describe a scene, giving the reader an insider's view into the characters' lives, feelings and thoughts. Not bad for erotic romance. Cleverly done. Again the author grabs you with a cliff-hangar, leaving you with enough of an appetite to come back for more.
The meat of this story is still based purely on the romantic connection of sex, so if you're looking for that, you've found it here.
Forgiving the head-hops, I'd rate this one four stars.
Reviewed by Taylor Morgan for Twilight Fantasies & CGB Press